$21.95
Taxpayer champion and enrolled agent Bonnie Lee puts the IRS under the microscope and uncovers proven methods, and surprisingly simple strategies to minimize your taxable income, maximize deductions, and, ultimately-add thousands back to your business' bottom line!
Description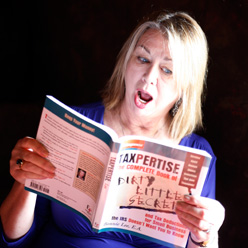 Taxpertise, The Complete Book of Dirty Little Secrets, is readable, entertaining and will provide you with critical information to help you gain a better understanding of how to work the tax code to your benefit, and to prepare your business with the ammo you need to be at maximum strength against the massive Tax Code!
Taxpertise, the Complete Book of Dirty Little Secrets, is also available at most major book retailers, and online at Amazon and Borders.
Additional information
| | |
| --- | --- |
| Weight | 453.59 kg |
| Dimensions | 17.78 × 22.86 cm |